Voltage Converter 220V to 110V 50W
Technical parameters:
Input voltage: AC 220V-240V 50/60Hz
Output voltage: AC 100V-120V
Output power: 50W
Package: Boxed
Weight: About 0.9kg
Volume: Length 14cmXwidth 7.5cmXheight 5.8cm
Features:
Three-pole plug input, with grounding function, more safety application.
It is only for 35w or less electrical appliances.
Output is universal socket, suitable for all kinds of plugs around the world.
Operating environment and application:
Essential device of low-voltage electrical products of United States, Canada, Japan, Taiwan and other countries and regions used in high-voltage countries and regions.
Application of electrical appliances:
110V low-voltage electrical equipment with power under 45W.
When selecting AC voltage converter, please notice the rated power of your electrical appliance, because the voltage converter power must be higher than your appliance power. Otherwise, it will damage your electrical appliances, and the AC voltage converter will have abnormal heat or even burned out. Please check the "power" or "power consumption" marked on the nameplate of the electrical appliances. According to these you can determine the power of the voltage converter.
220V to 110V 50W
voltage converter
is widely applied to all types of imported 110V low-voltage electrical appliances, such as BD player, Hi-Fi sound box, 4K television, hair dryer, electric heater, rice cooker, induction cooker, coffee machine, battery charger, electric knife, fax machine, refrigerators, air conditioners and other electrical appliances and equipment. Voltage converter can be used to convert voltages as long as power requirements are met. To change 220V voltage through the voltage converter can be in line with your electrical requirements on the voltage side. Your electrical appliances can be used in your home assured.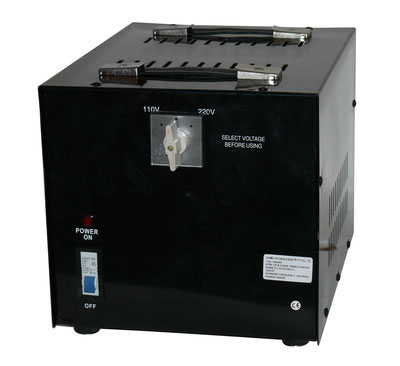 The voltage in the following countries is 110V:
The electrical appliances from these countries or regions use 110V low-voltage. If your country uses 220V, you must remember to use the voltage converter, in order to avoid electrical 220V input voltage to directly damage your electrical appliances. Electrical appliances of the United States, Mexico, Panama, Canada, Micronesia, Colombia, Barbados, Bahamas, Bermuda, Puerto Rico, Nicaragua, Japan, Anguilla and other countries are likely to belong to 110V low-voltage electrical appliances. When using under other voltages, please pay attention to solve the voltage problem.
Note:
Do not overload, do not use full load, so the power supply life will be longer.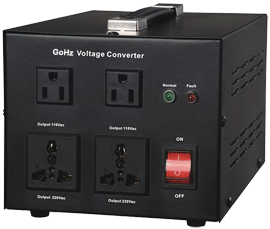 With a Voltage Converter, you can convert
110v to 220v;
120v to 220v;
220v to 110v;
230v to 110v;
240v to 110v.
Note, voltage converters do NOT convert 50Hz to 60Hz, or 60Hz to 50Hz.