Travel Voltage Converter 500W with Adapter
When you travel abroad, do you find there is something that you must take along? Now let us enumerate them together.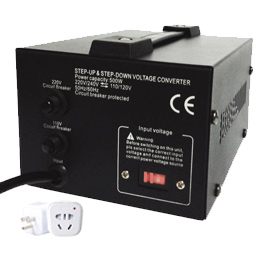 First, an universal
adapter converter
, use to convert the wall socket (such as convert the three square head into two round head). Second, a travel voltage converter 500w, use to convert the voltage of other countries (220v to 110v, or 110v to 220v). And then in addition to passport, wallet, bank card, mobile phone, camera and computer, the rest are probably clothes, shoes and toiletries.
The reason why we enumerate like this is because, although the current mobile phone, camera and computer these electronic equipments can have a wide range input voltage (100v-240v), but the ordinary household appliances can't. And the plugs of all the electrical appliances are not universal, so a converter for plug is indeed necessary. And the travel voltage converter itself is equipped with a power converter. We take with it basically can't use a universal adapter converter. The most important is that the voltage converter is a dedicated voltage converter for travel. It has small size, moderate weight. Its rated power is 500w, basically fits the needs of all small household appliances that people carry aboard, such as electric toothbrushes and so on.
Once I carried some folding hangers to dry clothes when I traveled abroad. After all, on my trip catch plane is a particularly painful thing. We often arrive at late night or leave at early morning. It is really inconvenient to send clothes to laundry at midnight. Generally I willing to hand wash and then cool in the bathroom can also prevent forgetting to take away the clothes. But the clothes can't be thoroughly dry by using ordinary hangers after one night, so I always feel particularly uncomfortable to put wet clothes into suitcase and go to next place.
And then a friend introduces a portable clothes dryer to me. I find it only need three and a half hours to dry clothes, so even if we encounter rainy weather. And it can be used as shoes dryer when replacing another set of racks. Especially for the mothers who travel abroad with their baby, they can expediently use it to dry the baby clothes only wet a part. But because this electric product is not a wide range input voltage design (220v, 50hz), so if we travel to the United States, Canada, Mexico, Japan and other 100v-120v countries, must take with a step-up voltage converter.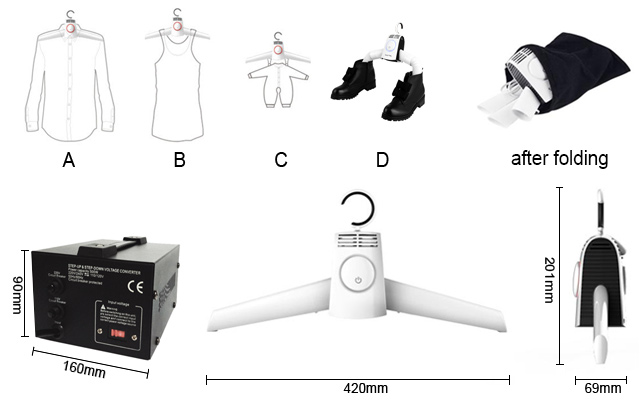 According to its rated power 150w, it is no problem to use a 500w voltage converter. In addition, the voltage converter size is 160*130*90mm, weigh is 3.4kg. It plus portable clothes dryer are almost equal to a set of personal underclothes, a coat and a jeans occupied by the weight and space. Well you can reduce at least two sets of clothes after carrying the voltage converter and the portable clothes dryer. Don't you think it's really worthy at the moment? Moreover, you can also bring your favorite dual-use curling iron. The general household curling iron is not a wide range input voltage design, its rated power is not more than 100w, and matching 500w voltage converter is also perfect. At the same time, mothers can take along this babycook machine with its rated power 260w. On the trip it can not only make delicious meals for baby, but also save more time to enjoy the journey with baby.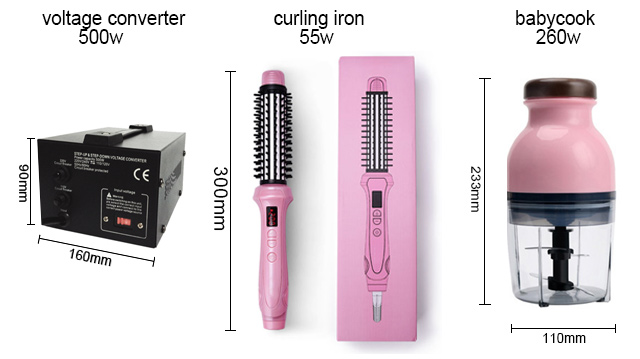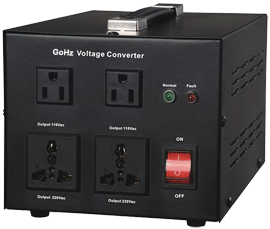 With a Voltage Converter, you can convert
110v to 220v;
120v to 220v;
220v to 110v;
230v to 110v;
240v to 110v.
Note, voltage converters do NOT convert 50Hz to 60Hz, or 60Hz to 50Hz.